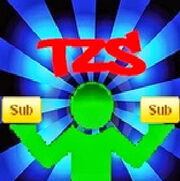 Zhadeix, also known as TheZSubber, is a former Sparta Remixer.
History
He joined YouTube on June 11, 2009 as TheZSubber to do sub4sub and join the stickman sub4subber fad started by Sub2Me4ASub.
He uploaded his first on August 15, 2010. His remix was unique in that it did not actually remix anything, but rather featured his stick character dancing to the standard extended base.
He uploaded his first real remix on May 26, 2013, which was a remix of the "What the Fuck" scene from the 2012 film The Dictator.
External Links