Zhadeix

Zhadeix's YouTube icon
Vital statistics
Name
Zhadeix
Gender
Male
Country
Unknown
Status
Inactive
Date joined
2010
Date left
Unknown
First base
N/A
First remix
♥ ☻ ♫ ☺ ಠ_ಠ THEZSUBBER'S SPARTA REMIX ಠ_ಠ ☺ ♫ ☻ ♥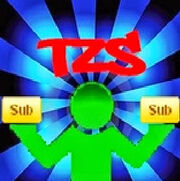 Zhadeix, also known as TheZSubber, is a former Sparta Remixer.
History
He joined YouTube on June 11, 2009 as TheZSubber to do sub4sub and join the stickman sub4subber fad started by Sub2Me4ASub.
He uploaded his first on August 15, 2010. His remix was unique in that it did not actually remix anything, but rather featured his stick character dancing to the standard extended base.
He uploaded his first real remix on May 26, 2013, which was a remix of the "What the Fuck" scene from the 2012 film The Dictator.
External Links
Ad blocker interference detected!
Wikia is a free-to-use site that makes money from advertising. We have a modified experience for viewers using ad blockers

Wikia is not accessible if you've made further modifications. Remove the custom ad blocker rule(s) and the page will load as expected.