SpongeThunder17 (aka ST17 or thunder) is a Sparta Remixer/YTPMVer that has been around for 3 years.
History
ST17 started on YouTube in late 2012. He made plenty of decent "SpongeBob Sings" music videos (aka YTPMVs) using Windows Movie Maker. But in late 2014, he had gotten his account temrinated due to some copyright strikes from Viacom. After plenty of attempts to get his account back, he gave up and had decided to just make another YouTube account as SpongeThunder17. Once he had created it, he decided to make YTPMVs and Sparta Remixes. His first remix was the SpongeBob '"That's a Ripoff!' - Sparta Danceorus Remix YTPMV Edition" remix. Back then, his timing for the chorus was a little bit off, and his pitch shifting wasn't so good either.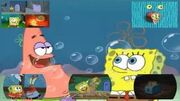 But after the next four months, he's improved his timing and pitch shifting, and he now has 150+ subscribers. 
His first non-"SpongeBob Sings" YTPMV was "How to Play SpongeBob Episodes", using the song by RoomieOfficial, "How to Play a Kitchen".
He usually uses SpongeBob, Black-ish, Steven Universe, and Rocket Monkeys as sources which made him popular.
Bases
Mashups
Sparta Base Passion Mix (Sparta Base Mix, Sparta Passion Mix)
Sparta Poptacular Base (Sparta Adit Base, Sparta DrLaSp V3 Base)