OpticalPlays

OpticalPlays' Youtube icon.
Vital statistics
Name
OpticalPlays
Gender
Male
Country
USA
Status
Active
Date joined
April 2016
Date left
Unknown
First base
First remix
the first total drama ridonculous race sparta remix on youtube!
OpticalPlays is a 12 year old (turning 13 soon) sparta remixer who started remixing in April 2016.
Interests
Pokemon
Total Drama
Sparta Remixes
Other stuff
Social Media
Sparta Bases (Mashups)
History (really long)
2014
He started his new youtube channel on October 2014, as "FannysPokemon1938." Which eventually led him to change his name to OpticalPlays on accident. He then liked the name and grew to it.
2015
January-March
Optical discovers remixing, but doesn't know how to do it, he enjoys it and uses his liked videos as a liked sparta remix videos playlist. He likes the remixes "No it's not.. - Sparta Remix" and "NEVER!! - Sparta Altis Remix"
May-August
He makes a Liked Sparta Remix video playlist. He presents it to his friends in a skype chat. However they all hesitate.
2016
March
He uploads his first ever video to Youtube.
April 5th
He uploads a failed remix (like his current remixes) of the ridonculous race, where there is no audio, but only the base. The video goes on audio-less with the base for 2 minutes until at the end it says "this is not a remix" in big white letters.
April 15th
He finds out the pattern for remixing, gets the hang of it, but doesn't know the chorus and the base should be the bottom tracks. So visuals are glitched. He didn't know that at the time.
April 21st
He finishes the remix, however, it's very bad.
May - September
Optical gains more and more subscribers and makes more sparta remixes, however, his remixes are downright TERRIBLE. He doesn't have melodyne and he doesn't know most of the pitches, though, he still improves regardless of off and bad pitch.
October
He finally gains 300 subs and GETS MELODYNE! He starts making actual good pitch and good chorus.
November-December
He improves some more, not much to say here.
2017
He celebrates 2017 with his friends and makes a remix to celebrate.
February
Drama happens, which leads to him being disliked by alot of people, but evantually, it is resolved.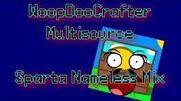 March
He improves and gets even better on his remixes, with freestyles and such. Though, he is kicked from Alex's server.
All information written by OpticalPlays. Please do not edit the information without notifying him. Thank you.
Copyright © OpticalPlays 2014 - 2017.
Ad blocker interference detected!
Wikia is a free-to-use site that makes money from advertising. We have a modified experience for viewers using ad blockers

Wikia is not accessible if you've made further modifications. Remove the custom ad blocker rule(s) and the page will load as expected.