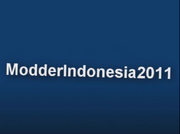 ModderIndonesia2011 (as known as modderindo[1]) was a 12 year old Sparta Remixer.
ModderIndonesia2011 was born in Semarang, Indonesia, in 1999. He was the second best Sparta Remixer on YouTube.
One day, he could now make freestyles like this: WTF BOOM HAS A SPARTA FREESTYLE REMIX and Del Porte De un Membrillo - Sparta Freestyle Madhouse mix v3)
His first Sparta Remix was "The best Sparta Remix You Is not Nothing You Will Find on YouTube", but it was not liked because of his wrong pattern .... (like this: 11_11_111_1_1_11111_1_111_11_1)
Ad blocker interference detected!
Wikia is a free-to-use site that makes money from advertising. We have a modified experience for viewers using ad blockers

Wikia is not accessible if you've made further modifications. Remove the custom ad blocker rule(s) and the page will load as expected.