TehGermanSpartan (also known as GlamorousGermanSpartan or GermanSpartaRemixer) is a sparta remixer who makes Sparta Remixes and Sparta Bases. He's currently active in the community.
History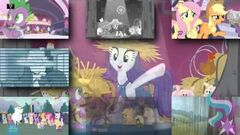 His first Sparta Remix was a non-visual FL Studio remix called: "TEH BEST SPONGEBOB POOOOOP SPARTA REMIX ON YOUTUBE!", made in February 2014. When he was new, he created Sparta Remixes really quickly and posted them after a day when the previous Sparta Remix was released.
He also made bases like Sparta Venom Base TGS, Sparta Venom Base V2 - GSR Edition -, Sparta Dancerous Remix - YTPMV Edition -, Sparta Antimatter Base TGS and many more. His very first Sparta Base was Sparta EgoBuZz Base. The other Sparta Remixers didn't used his bases because he made too many Sparta Bases/Mashups but after some time, the best and popular ones were used.
He also made Mashups like Sparta Dreaming Mix, Sparta F.A.A Mix, Sparta B.J Mix and many more. But now he makes Mashup Bases rarely.
Around July - August 2014 he started making Sony Vegas Sparta Remixes. EpicRemix 0_o taught him by just asking him to how to make a simple Sony Vegas Sparta Remix. He showed him a tutorial video for that. He never used Melodyne or any other programs for making good pitch samples. Now he's making more Sony Vegas Sparta Remixes.
He started getting dislike bots as well as haters from mid to late 2014. His main channel (called GermanSpartaRemixer) got terminated in April 29, 2015 by a copyright strike from both companies Outfit7 and Viacom. So he made set his alt channel called now GlamorousGermanSpartan as his new main channel, before his old got terminated (same thing happened to 09noahjohn).
Like said before, He makes audio sparta remixes rarely, because he makes more sony vegas sparta remixes than before.
On mid-March 2017, Glamorous changed to his old nickname channel called "TehGermanSpartan".
On late-May 2017, TehGermanSpartan has his new server called "TehGermanSpartan Community" on Discord after the original owner officially retired. Before he had, he created Discord account back in March-April 2017.
On 12th June 2017, TGS made a new update for a new channel creation, he said he needed to start fresh.
Other channels
GGS made another channel where he reuploads Sparta Bases that were deleted, never seen or not released. He created this channel in Mar 3, 2014 and he reuploaded like 162 bases (09/18/2015), it's on his Discord server to make requests for sparta bases. He's available to reupload Sparta Bases on demand. He also have a new alt channel called like his old channel, where he uploads unserious videos and other stuff like that.
Friends
EpicRemix 0_o
♪GvTehPDSpartan01♪
lol360no
TehGamingSpartan
...and many more..