Cosmic Console

Windy Windows, Cosmic Console's avatar

Name

Cosmic Console

Gender

Male

Country

Poland

Status

Active

Date Joined

August 2015

Date Left

-

First Base

Sparta Cosmic Base

First Remix

WinBeta No BGM Sparta Remix
Kosmiczne Konsoli, or Cosmic Console when translated into English is a Polish Sparta remixer who joined the community in August 2015. Many know him by his Windows BFDI character, Windy Windows.
Cosmic Console greets his viewers with the phrase, "Hello humans!" Or "Cześć ludzie!" in Polish. Many have speculated that Cosmic Console is not human, due to that fact that when he is talking about a group of people or his viewers, he refers to them as "members of human society". However there are people out there that disagree with this theory, saying Cosmic Console just puts on an act.
When asked, he replies with a vague answer like "I'm just a living being on the internet."
​History
He started making Sparta remixes in GarageBand, a commonly known music-making application for Apple's mobile and desktop operating systems. These Sparta remixes were usually off-beat, due to the fact that in GarageBand, you have to play sounds on an on-screen keyboard to make music. The pitch shift was the best part of the GarageBand made remixes.
Cosmic Console only has ever released two remixes made in GarageBand. Those are his Sony PSP and THIS IS WINDOWS! Sparta remixes. THIS IS WINDOWS soon was re-made properly in Sony Vegas.
Cosmic Console's first properly made Sparta remix was his WinBeta No BGM Sparta Remix,    which only consisted of audio, and no visual elements. Cosmic's first Sparta remix to introduce visuals was his Windows 10 No BGM Sparta Remix. Many claim it was a .veg replace, due to the matching visuals and window placement of a common .VEG replace. Cosmic Console states that it in fact is not a .VEG replace, but he copied some of the visuals. His most current Sparta remixes are now completely unique.
Cosmic Console started to get requests early in his career. His first request came from EpicGuy7310 (Now TailsFan27) on YouTube. In his request, it is obvious he was shifting away from matching the visual style of the .VEG he claims to be copying, by making the pitch window move back and forth in time with the pitch shift. As time went on, Cosmic Console kept adding new visual elements to his remixes, making them more unique to his style.
​Cosmic Console today
Cosmic Console's most recent Sparta remix is his [Homestar Runner "Thanks for calling the internet!" Sparta DrLaSp Remix]
This remix is one of the few good sparta remixes out there to use the popular web series Homestar Runner as a source.
​News and updates
Cosmic Console has created his own custom sparta remix source, and is hoping to get people to notice it, and use it in their remixes. It is the first sparta remix source in Polish.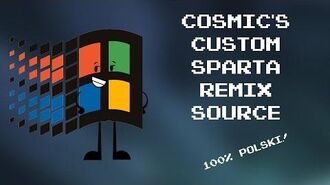 Ad blocker interference detected!
Wikia is a free-to-use site that makes money from advertising. We have a modified experience for viewers using ad blockers

Wikia is not accessible if you've made further modifications. Remove the custom ad blocker rule(s) and the page will load as expected.