CloudNinja

His Logo
Vital statistics
Name
CloudNinja
Gender
Male
Country
United States
Status
Retired
Date joined
5.15.12
Date left
10.14.17
First base
Sparta Firecloud Mix
First remix
N/A
CloudNinja (Original: TehEpicSpartan) is a 17 year old African American Music Producer and Sparta Base Maker. He lives in Las Vegas, Nevada and is a Senior in High School. He retired September of 2015 to do EDM and other genres to become a professional Producer in the future. You can notably tell he has a obsession with Greninja.
He has planned on the deletion of his channel on October 14th. Heres the video: https://www.youtube.com/watch?v=hB-hCs1fnBE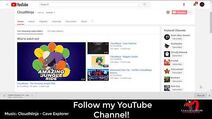 Subscribe to CloudNinja

He released an EP labeled "Fire Type". You should also check that out. He's formally an artist of a Promotion channel called "DVS" Or "Dank Vibe Sounds". Here is a link
https://youtu.be/rrUXp3s8mRo (Molten Fury By CloudNinja)

Discovering Sparta Remixes
He first saw Sparta remixes back in 2009. First Sparta remix that he saw was the "NO Shoes, No Shirts, No Service" Sparta Hyper V1.5 remix. The first base he saw was Sparta Hyper Remix V1.5. The first remixer he subscribed to was XlethYireh.
Mashups
He first started off making mashups using Camtasia Studio, which his first couple was extremely off timing. He soon started getting better, till the point where Spartans called him "Jessie11spykid jr".



Electronic Music
In late 2015. He had quit Sparta Base Making to continue improving his Production of music. Being a big fan of Monstercat Record label. He hopes to one day get on that label or other labels.
His first ever song was a crappy unmastered battle theme. Later on, he started getting better and better. But got paused cause of Sparta bases twisting his view on how music really was and how to improve.
Recently. He's been working on much more professional style music. Hoping to become big one day.
His favorite artists are
Rameses B, Nitro Fun, Au5, Fractal, TheFatRat, Waterflame, PegboardNerds and a few others.
He's currently submitting music to NMSNL/Syfer, Ghostly, White Wall and maybe Monstercat. None has accepted yet.
Freestyles
Pitches
When he started, his pitch was extremely off.
His first pitch: 0 1 -1 0
Second try: 0 1 -2 0
Final try: 0 1 -2 1

He has created a lot of new pitch patterns lately:
Intro/Awesomeness 2/Madness Pitch:
0 6 0 6 0 0 0 0 1 7 1 7 1 1 1 1 - 2 4 -2 4 -2 -2 -2 -2 1 7 1 7 1

Pre Epicness Pattern: Example
0 0 1 1 0 -2 -2 -2 -2 1 1 -2 1 -2 1 1 0 -2 -2 -2 -2 1

Epicness Pattern: Example
His pitch patterns for bases.
Club Beat V2 Pitch
0 8 0 8 13 1 14 -2 6 -2 6 14 9 1 9

Antimatter Pitch
0 -5 -12 0 0 -5 -12 0 1 -4 -11 1 1 -4 -11 1 -2 -7 -14 -2 -2 -7 -14 -2 1 -4 -11 1

Percussions
1 - Kick
3 - Snare
2 - Hi-Hat
Percussion #1
 1*2*3*2*1*2*3*2

Percussion #2
 1*2*1*2*1*2*1*2*1*22

Percussion #3
 1*3**113**1*31*3*3*3
   222222222222222222

Percussion #4
1*2*1*2*1*2*1*11*

Other Sites
Contact
Skype: Cloud-Seroku
Discord: CloudNinja#2878
CTGP-R Mario kart Wii
CTGP is a Custom Track MKWii mod that he plays most often currently. He has made many texture and sound mod packs for the "My Stuff" Folder that's in the files of the mod.
If you got questions. Ask on his Facebook or his Skype.
Super Smash Brothers.
CloudNinja plays Super Smash Brothers. 4 Competitively. He goes to smaller tournaments in North Las Vegas. He solo mains Greninja
He knows a lot of Footstool setups and technical combos for Greninja.
His NNID is Firecloud39000
Ad blocker interference detected!
Wikia is a free-to-use site that makes money from advertising. We have a modified experience for viewers using ad blockers

Wikia is not accessible if you've made further modifications. Remove the custom ad blocker rule(s) and the page will load as expected.